Wirt County High School
2022-23 Enrollment Forms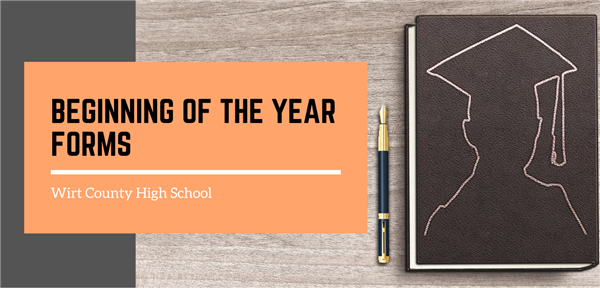 The 2022-23 Enrollment form is available now!
This form must be completed either online or by requesting a paper copy by August 18th! You also must complete the online AUP form by August 18th for your student to receive their netbook on the first day of school.
If you need paper copies of the 2022-23 Enrollment forms for Wirt County High School, please contact the WCHS Office at 304-275-4241.
Use the links on our For Parents menu to complete the following:
Proof of Enrollment Requests

Transcript Requests

Parking Permit Requests

School Excuse Dropbox

Complete the AUP Form
Medical Forms to be completed by your student's doctor if necessary (download and print or email to your doctor's office):
Wirt County High School Policies:
Drug Testing Policy - This will be completed during your initial enrollment.

AUP (Computer and Internet Usage) Policy
Additional Forms and Policies for Your Information Only (these do not need to be completed for initial enrollment).