Time to buy yearbooks!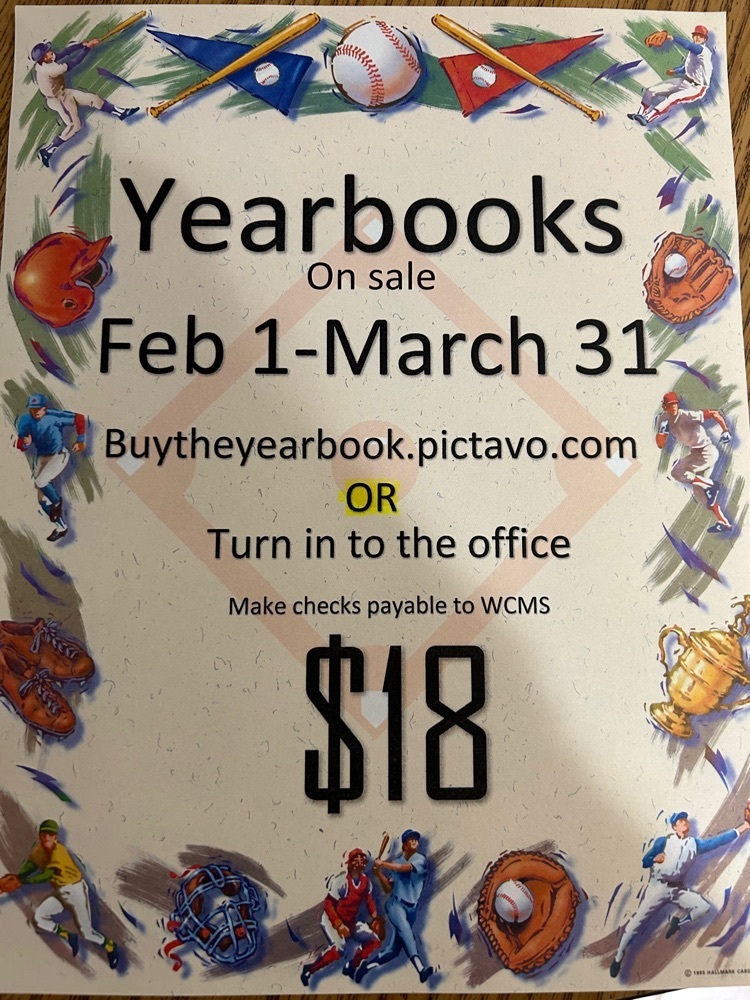 WCMS students will be walking over to the Wirt County High School auditorium tomorrow for a presentation from the G Force Strength Team. Please make sure your child has a coat or sweatshirt.
🚨Drop Off and Pick Up Reminder🚨 The front loop is closed to all traffic EXCEPT bus traffic from 7:30 - 7:45 AM. Please drop students off out back or in the gravel lot. Also, please remember that school does start at 7:50 AM at WCMS. Of an evening, parent pick up students are dismissed at 3:10 from our back doors. Please follow the line of traffic to wait for your child. It is a quick process! :) Please call the school if you have questions.
Mrs. Harrison is starting to do some fundraisers for our library! Water bottle stickers will be available for sale soon and we will also be having a book fair from February 13 through the 17th. Stickers are two stickers for one dollar. They will be on sale through the end of the book fair!
Fifth graders were able to talk to Chris Harris the CEO of Humanity Matters of New Zealand on Friday. Chris spoke of his work with the Holocaust and his travels all over the world as well as some of the famous people he has had the pleasure of meeting. Most importantly, he spoke of being an upstander and choosing to do the right thing. Students were also able to ask him questions and enjoy the funny stories Chris had to share. It was an amazing opportunity.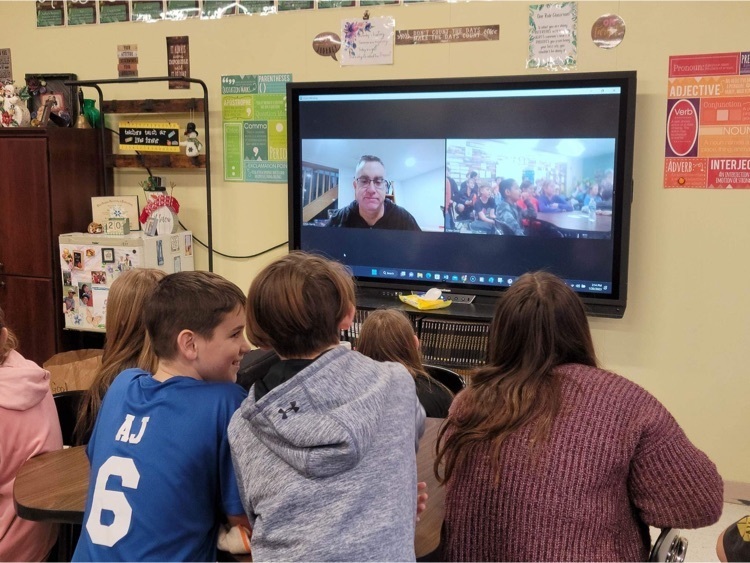 Today, 5th graders heard of the hope filled dreams of Anne Frank and Dr. Martin Luther King Jr. Mrs. Good challenged each 5th grader to perform a Random Act of Kindness. If students can prove to her on Tuesday that they performed a RAK, they will earn a special treat.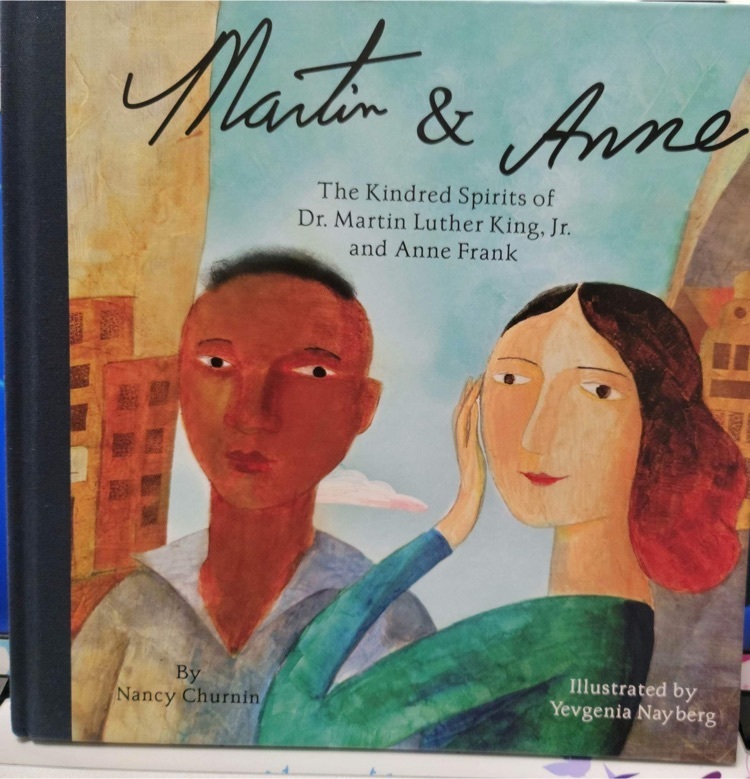 EXCITING NEWS!!! PLEASE READ BELOW! Dear Parent/Guardian, Wirt County Schools is excited to announce that we have an exciting reading service available through Sora, the student reading app, which provides free 24/7 access to ebooks and audiobooks. What better way to engage your student's mind than through reading? How does it work? Sora provides the quickest and easiest way to get started with digital titles from our school. Students can simply log in using school Google credentials (BOE email) and instantly access thousands of ebooks and audiobooks on virtually any device. Get started today at
https://soraapp.com
or download the free Sora app for Android or iOS. Once Sora is downloaded and Wirt County Schools is selected, connect to West Virginia Reads Library without a library card (in Sora menu, select +Add a Library, type in West Virginia Reads, enter your Sora log in credentials, borrow, and enjoy). Download Sora to all of your devices! Enjoy books! Sincerely, Bree King Library Director
Breanna.King@k12.wv.us
Dora B. Woodyard Memorial Library Wirt County High School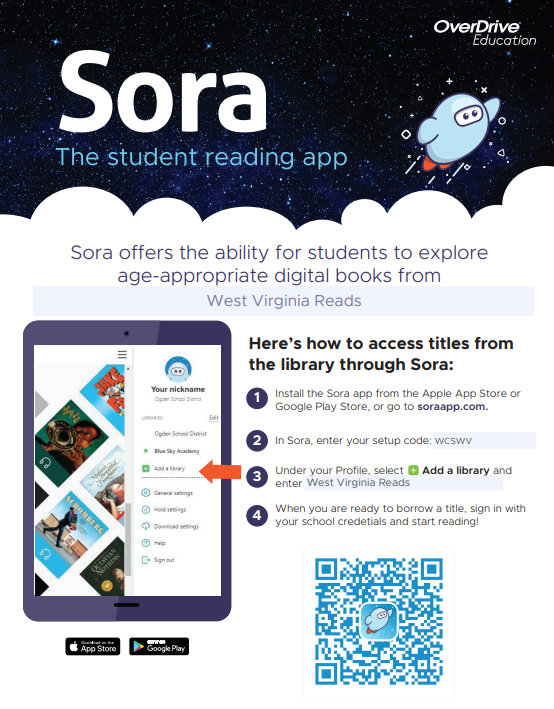 Due to some computer issues we are experiencing, WCMS and WCHS report cards will not be sent home until Monday, January 9.
Just a reminder that the Patch 21 after school program resumes Tuesday and runs through the end of January. If you would still like to sign up, please contact Dina Harrison at WCMS.
Congratulations to our wrestlers for a great showing last weekend at LKCs. The boys placed 5th overall and these were the following individual places. Austin Conley 70 lb LKC Champ Kayden Lewis 78 lb 2nd place Aiden Wells 86 lb 3rd place Gus Hartley 102 lb LKC Champ Boston Lott 116 lb 4th place Peyton Dye 135 lb 4th place.
Parents and guardians, the ICE survey will be given on Wednesday this week. If you wish to opt out and have not already done so, please call WCMS by end of day tomorrow. 304-275-3977
Dress up for Giving schedule for the rest of the week: Tuesday - Winter Wonderland - wear all white Wednesday - Flannel or Sweater Thursday - PJ Day! Cost is a can of food or $1 to be donated to the Hope Shop!
Picture retakes are Monday! We will also have winter sports pics that day. Please make sure athletes bring their uniforms!
Flu Shots are available!!! Your student should bring home a paper about flu shots this week. Please complete the form and send it back to school with your student!
Report cards are coming home today from WCMS!!
Lunch on 10/25/22 will be sloppy joes instead of hotdogs!
On behalf of WCMS, I want to thank everybody who helped volunteer today to make our 2022 color run a huge success! A special thank you to parents, the fire department, teachers, and town of Elizabeth employees who braved traffic spots trying to keep our kids safe. We apologize for any inconvenience this may have caused, and appreciate the many suggestions on what we can do to make it better. We will take all of those suggestions into consideration. We understand sitting in traffic is always a pain, and appreciate the kindness and patience of those who understood. We truly believe WCMS kids are amazing and their safety is worth waiting for a few extra minutes! Our kids had a blast and pictures will follow in the coming days!
Important information about the color run on Friday, October 21: If your child has an inhaler that they carry on their own, please make sure they bring it with them and check in with Nurse Kelly Goff first thing tomorrow morning. All students must wear a face covering like a bandana, glasses, sunglasses, or goggles. We will have glasses for all participants, and will also have some bandanas available. Please make sure all students have a change of clothes for after the race. Students must be cleaned up before boarding the bus home. Parents are welcome to be along the race route to throw color. Color can be purchased out front of WCMS beginning at noon on Friday. Color will be two packs for $3 or seven packs for $10. All volunteers need to check in at the WCMS office by 12:30. All parents planning to run with their child need to be at WCMS by 12:45 and make sure to sign in at the front office. If you have volunteered to help and can no longer do so, please call WCMS first thing in the morning. The race will begin at 1 PM. It begins and ends at WCMS. Parents may sign students out after the race and color wars.
The WCMS football game at Pleasants County will begin at 7:00PM tomorrow.
All color run permission forms for WCMS are due Tuesday, October 18th!