Lunch on 10/25/22 will be sloppy joes instead of hotdogs!
On behalf of WCMS, I want to thank everybody who helped volunteer today to make our 2022 color run a huge success! A special thank you to parents, the fire department, teachers, and town of Elizabeth employees who braved traffic spots trying to keep our kids safe. We apologize for any inconvenience this may have caused, and appreciate the many suggestions on what we can do to make it better. We will take all of those suggestions into consideration. We understand sitting in traffic is always a pain, and appreciate the kindness and patience of those who understood. We truly believe WCMS kids are amazing and their safety is worth waiting for a few extra minutes! Our kids had a blast and pictures will follow in the coming days!
Important information about the color run on Friday, October 21: If your child has an inhaler that they carry on their own, please make sure they bring it with them and check in with Nurse Kelly Goff first thing tomorrow morning. All students must wear a face covering like a bandana, glasses, sunglasses, or goggles. We will have glasses for all participants, and will also have some bandanas available. Please make sure all students have a change of clothes for after the race. Students must be cleaned up before boarding the bus home. Parents are welcome to be along the race route to throw color. Color can be purchased out front of WCMS beginning at noon on Friday. Color will be two packs for $3 or seven packs for $10. All volunteers need to check in at the WCMS office by 12:30. All parents planning to run with their child need to be at WCMS by 12:45 and make sure to sign in at the front office. If you have volunteered to help and can no longer do so, please call WCMS first thing in the morning. The race will begin at 1 PM. It begins and ends at WCMS. Parents may sign students out after the race and color wars.
The WCMS football game at Pleasants County will begin at 7:00PM tomorrow.
All color run permission forms for WCMS are due Tuesday, October 18th!
The color run permission form cut off the line for the parent signature. Please be sure to sign the bottom of the form before returning it!
Just a reminder that tomorrow, October 10, is a professional learning day for staff. There is NO SCHOOL for students.
All shirt orders are due tomorrow! Please bring them to the office first thing in the morning.
Please join us at the WCMS football game Thursday, September 22 at 6:00PM to kick off GEAR UP at WCMS. Seventh and eighth grade students and parents can find out about the GEAR UP program and what it has to offer your student! Our WCMS students get free admission to the game. We are also offering free admission to any seventh or eighth grade parent who checks out the GEAR UP information table!
If you have signed up to help with our Fall Fest in the morning, please be here by 8:45 AM so we can get you in your spot! If your child signed up to To hydro dip items tomorrow, please make sure they bring the items with them. Remember if you are signing your student out tomorrow, please do so from 12-1.
🐯 Homecoming 2022 🐯 We are excited to join in the fun of Homecoming NEXT week! Next FRIDAY is our FIRST PBIS REWARD - Fall Fest!!! WCMS will also be participating in Spirit Week too! This is free! 9/12 Merica Monday 9/13 Movie Character Day 9/14 Music Genre Day 9/15 Throwback Thursday 9/15 Tiger Pride
Our middle school home football game will start at 6:30 Thursday. Just a reminder that middle school students get in free!
Tuesday is our first football game of the year! Our White Tigers will play Ritchie at home at 6:00PM. All students get in free to the game!

Catch up with the latest student stories, events, and news updates. It's everything Wirt County Schools, in your pocket. If you haven't already, download the app! Download for Android
https://bit.ly/3bZ8d6s
Download for iPhone
https://apple.co/3Rdctza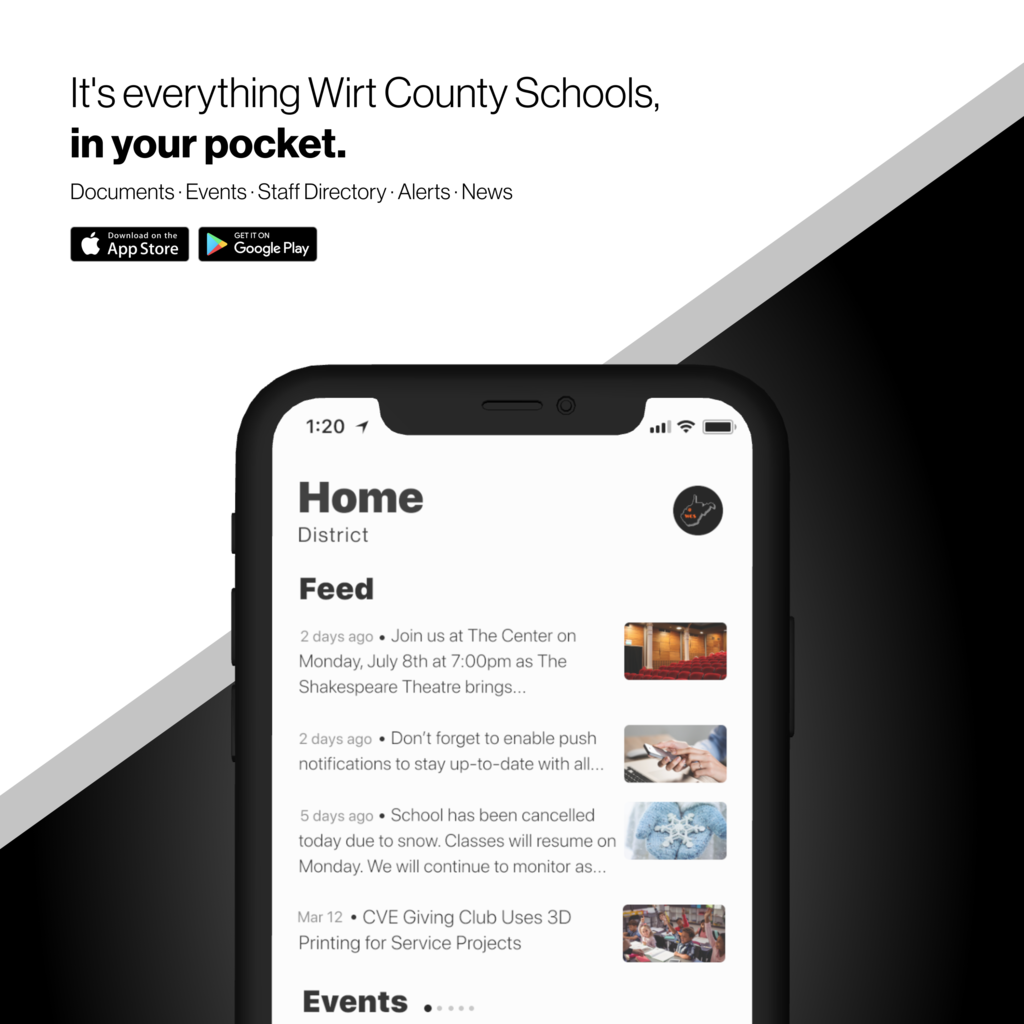 Any 6-8th interested in playing golf is invited to attend a meeting on Tuesday, Aug 16 at 6:00PM at WCMS. Please attend if you are interested in playing golf!
Open House is tomorrow (August 16) at WCMS!! Doors will open at 3:00pm and Open House is from 3:00-6:00PM.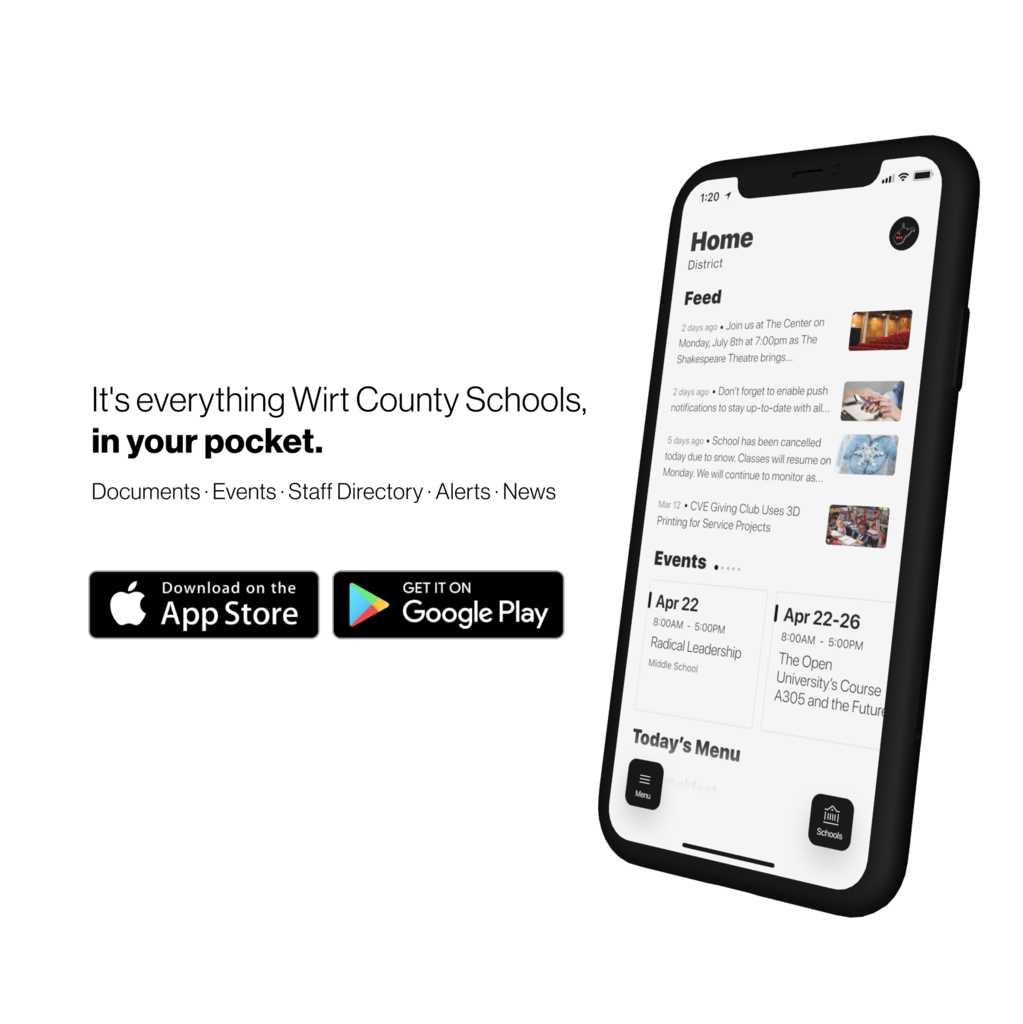 Just a reminder that all seventh grade students must have updated vaccination information to start school. They need to have their Tdap (Tetanus, Diphtheria, and Pertussis) and meningitis shots up to date for this year. If you have any questions, please call WCMS.
🚨 🚨 Open House Information 🚨 🚨 WCMS will be having Open House on Tuesday, August 16, 2022 from 3:00-6:00PM. Students and their parent/guardian are able to come at any time during that window. No one will be able to enter the building before 3:00PM. If you have questions, please call WCMS at 304-275-3977.

The last day for the 2022 Middle School Summer School Program is June 30!