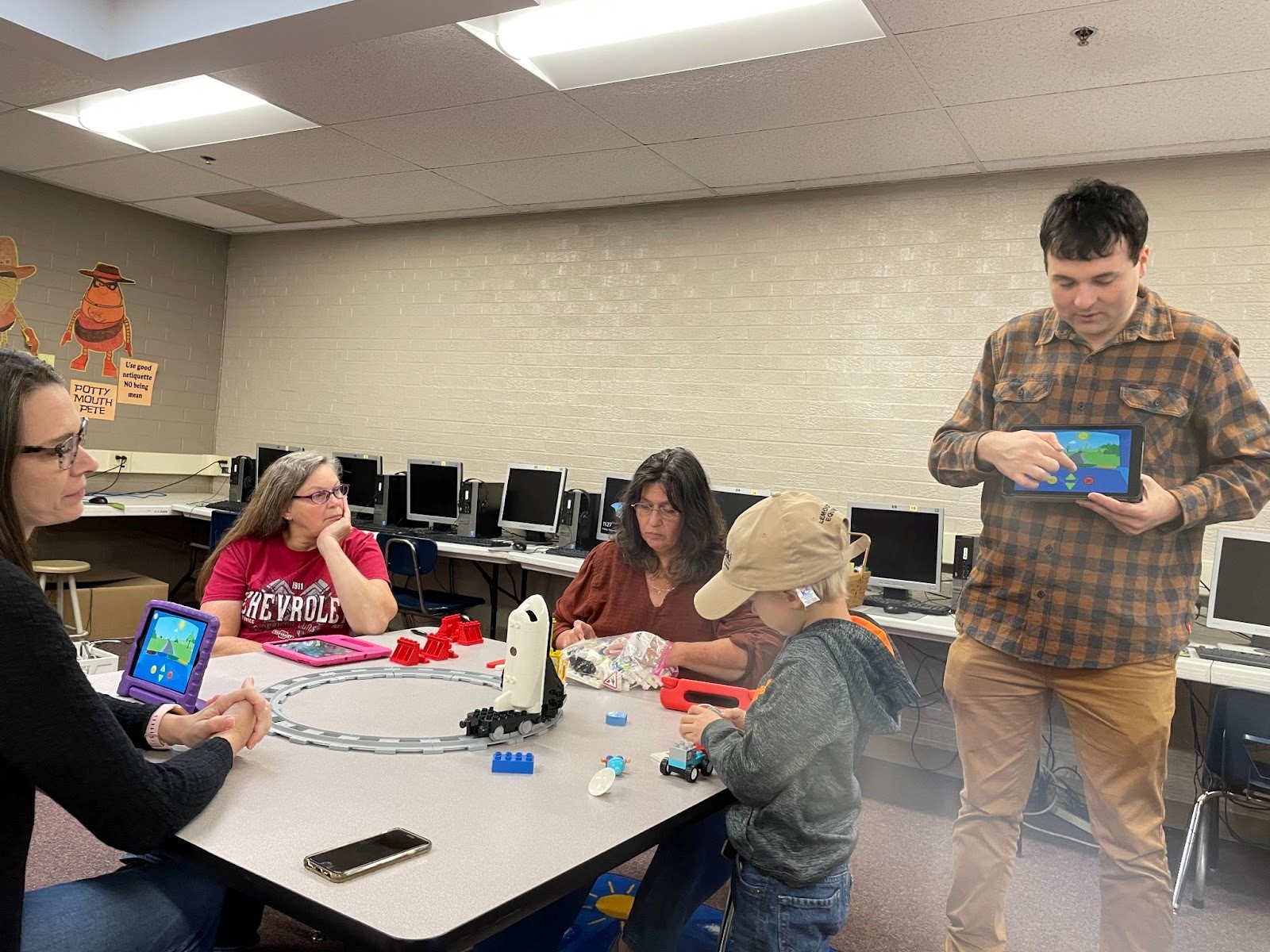 Wirt County hosts a series of NASA IV&V workshops for educators.
Participants engage in Coding Express workshop led by Josh Revels, NASA IV&V Education Specialist.
The NASA Independent Verification and Validation (IV&V) Program's Education Resource Center (ERC) conducted a series of 10 "kit" trainings to prepare the Wirt County 4H staff for their space-themed 2023 summer camp.
Eleven different groups have already utilized various kits, which has impacted 155 students so far.
Wirt County educators, librarians, and homeschools also registered for these workshops, meaning they were able to borrow these educational kits for use in classes, after-school programs and summer camps.
"These educators have dedicated many hours over the last few months outside of their normal workload in developing professional teaching strategies," NASA IV&V Education Specialist Josh Revels said. "The work they've done in improving their teaching strategies during these training sessions will have a lasting effect."
According to Technology Integration Specialist Callie Daughtery, lessons with both teachers and students with the kits have already been implemented across multiple classes in Wirt County Schools.
"I love that the kits not only teach students about content, but also about problem-solving and critical thinking. The kits can be easily adapted for different age levels and skill abilities," she said. "Teachers and students have enjoyed the additional hands-on activities the kits provide which enhance their normal classroom curriculum."
The series began back in August at the request of Melissa Moss, a homeschool mom and 4-H counselor who reached out to the ERC.
"My main motivation to be trained on the kits was to use them in our local homeschool coop. That evolved into the theme for our county camp in 2023 and our 4-H club, Beulah Hill Busy Bees," she said. "Our club theme for the year is a 4-H unit based on Mars, so these kits tie in nicely."
Revels led trainings all the way through November. Throughout multiple in-person and virtual sessions, he covered subjects like robotic arm activities relating to the International Space Station, remote sensing, scientific literacy, Kindernauts certification, and coding activities geared toward pre-K and early elementary students like Sphero indi, Coding Express and WeDo 2.0 kits from LEGO® Education.
"I like that the Sphero indi can target many concepts in addition to exploring basic coding," Wirt County teacher Jill Bumgarner said. "Preschool-age kids can practice colors, directionality, shapes, following directions and teamwork without even realizing they are learning."
The kits are expected to have an even greater impact in the coming summer, according to Moss.
"We have about 100 campers. Some of the kits will be used as class options and others every camper will use on a daily rotation," she said. "We will also include CloverBud Day Camp into the main camp where there will be another 40 elementary-aged students joining us. They'll utilize Kindernauts and Sphero indi that day."
Teachers who are interested in engaging in NASA kit training or professional development should visit the NASA IV&V ERC website: Katherine Johnson IV&V ERC (nasaivverc.org)